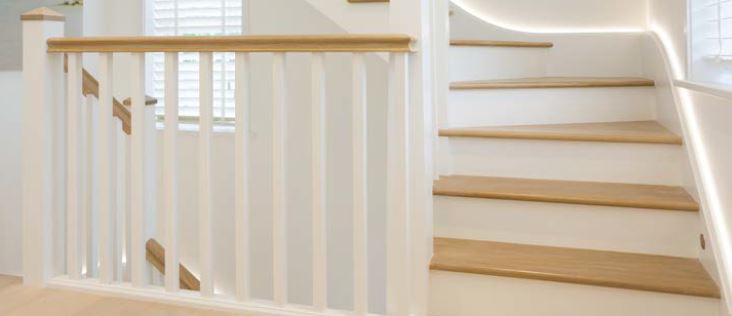 We regularly meet builders who have had bad experiences with suppliers in the past. From long delays to costly replacements, these past issues unsurprisingly lead to distrust on future projects.
That's why we've partnered with Multi-Turn, the South's leading bespoke staircase manufacturer. With so much experience in the industry, they've finessed a tried and tested approach to creating their fit first time stairs that support builders big and small, on projects of all types.
In fact, their team have calculated that they can prevent clients from leaking over £700 in profit per staircase on their building projects!
So, how is it done?
Step 1: Site Surveys - Worth £300
One of the most important elements of all their projects is ensuring that your stairs will fit first time and comply with building regulations. The last thing you need when managing a project is to take the hit on costs of rework or replacement for any part of the build.
That's why they carry out a site survey as standard with every order. Though you may already have plans, their expert projects team will come out to take measurements using the latest technology, ensuring they take full responsibility for the correct fitting and compliance of your stairs.
Not only does this save you the time and hassle of having to measure up yourself, it also prevents you from incurring any extra costs to pay tradesmen who are unable to progress work due to delays with stairs that don't fit.
Step 2: Dry Assembly - Worth up to £200
Having your stairs delivered only to find that you can't fit them safely, because the treads or handrail aren't fitting correctly, will only add delays and unplanned costs to your project.
Multi-Turn dry assemble and quality check all their stairs before they're sent out for delivery. Doing so means they can guarantee that each piece will fit to the precise specs their team have produced, making it quick and easy for any qualified carpenter or joiner to fit.
By preventing any unexpected surprises down the line, they save you from having to fork out for tradesmen on site who can't carry out any work but still need to be paid.
Step 3: On Time In Full Delivery - Worth £140
For your project to keep moving forward, your deliveries need to be organised to arrive when and where you need them. Your stairs are an extremely important element that will keep the project moving along, so that's why Multi-Turn have aimed to develop a faultless, no fuss service.
Their team of drivers and fleet of vehicles enable them to deliver all orders to your schedule. If you need to change dates or even stagger deliveries to meet building schedules of different plots, their flexible approach means they can adapt to suit you.
Their delivery team are highly experienced, so they will always handle and store your stairs correctly to minimise damage.
Step 4: Fit First Time Guarantee - Worth £120
Multi-Turn have worked with plenty of builders who have had issues with the overall spec and fitting of their stairs from previous suppliers.
As well as each of the previous steps – which are supplied FREE as standard – the also guarantee that every staircase that leaves their workshop will fit first time, every time.
By placing the responsibility of accurate fitting on themselves rather than you or your carpenter/joiner, they'll help to keep your project on track and to budget, whilst also removing any risk or stress on your behalf too.